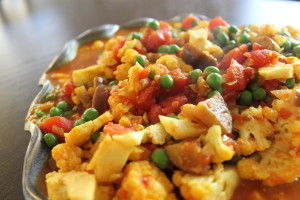 Alu Gobi - Curried Eggplant and Cauliflower with Green Peas
Author: Julie Pecarski
Prep time: 20 mins
Cook time: 35 mins
Total time: 55 mins
This is a version of Alu Gobi, an Indian dish, made with potatoes, cauliflower and spices. I have adjusted this recipe and swapped out the potatoes for eggplant.
¼ cup of coconut oil or ghee
1 teaspoon cumin powder
1 teaspoon tumeric
1 teaspoon of coriander powder
1 teaspoon of red chili powder
Salt to taste
1 small onion, diced
3-4 garlic, minced
1 medium sized eggplant, cubed
1 small head cauliflower, chopped into small pieces
1 can of diced tomatoes
¾ cup of green peas
½ of cilantro, finely chopped
In a heavy bottomed pot, heat the oil on medium heat and add in the onions and the ginger and sautee for about 4 minutes, until the onions are soft and beginning to turn pale golden.
Add the eggplant, cauliflower, all spices (except salt) and mix well, and cook for 1-2 minutes until the spices begin to smell fragrant.
Add the tomatoes, season with salt and turn the heat to medium - low until it begins to simmer and cover for about 18-20 minutes
Add in the green peas, reduce the heat to low and cook for another 3 to 4 minutes until the vegetables are nice and soft and coated with a nice thick sauce.
Turn off the heat and mix well.
Garnish with cilantro and serve alone or with brown rice.
Recipe by
Eat Life Balance
at http://eatlifebalance.com/aloo-gobi-warming-curried-eggplant-cauliflower-green-peas/